Traffic as easy as "Pay Per Click"
Pay Per Click (PPC) advertising using Google's Ads or Microsoft Ad Center is the easiest way to get high rankings in the Search Engines. You select the keywords your prospects are searching for, set a budget, flip a switch, and watch the traffic pour in. All it takes is sufficient ad budget to get top listings on major search engines like Google, Yahoo! and Bing. That's the easy part.
Unfortunately, too many business owners stop there, because they see no return on their advertising investment. The hard part (and the most rewarding part) is making sure you are getting a positive return on your Pay Per Click investment. Driving traffic to your web site is not enough. You need to make sure the money you are spending to get visitors actually shows a return.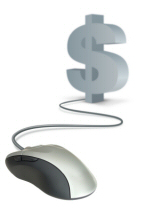 Track and Monitor PPC Advertising
As with every other marketing effort, your Pay Per Click advertising needs to be productive. That means you need to set goals and monitor them. One of PPCs strengths is the ability to track the performance of every penny you spend on Pay Per Click advertising. With the right monitoring and tracking, you can weed out what does not work, and feed what does. We help you avoid common pitfalls and mistakes that can crush a PPC campaign.

Goal Oriented Advertising
Sewell's goal-oriented approach to Pay Per Click management seeks to maximize your return on Ad Spend. We take the time to understand how your business operates, so we can create and manage your Internet Marketing campaigns effectively. By setting goals and monitoring traffic and objectives, Sewell can identify those aspects of your campaigns that are working and those that are not. We manage every aspect of your Pay Per Click campaign including:
Keyword Research and Selection
Ad creation and testing
Monitoring ROI by Campaign and Keyword
Selective ad targeting
Ad and Keyword review
Experience Counts
With clients from South Jersey to California, Sewell's Pay Per Click management experience includes AdWords campaigns as small as $500 per month to large campaigns in excess of $100K per month. Regardless of size, we never lose sight of the overall goal – to maximize your Return on Ad Spend. Our success is a reflection of our client's success.
Sewell serves the South Jersey area including Camden County, Atlantic County, Salem County and Cumberland County, from the Turnersville, Glassboro, Mullica Hill area in Gloucester County, NJ.
Contact Sewell to learn more about how Pay Per Click advertising can help your business succeed.