Search Engine Optimization
Search Engine Optimization (SEO) is the process by which website owners build their web sites to improve their natural (or "organic") rankings in Search Engine Results Pages (SERPs) when people search for products and/or services they provide. The higher your ranking in the Search Engines the more visitors (or traffic) will come to your site. Organic SEO listings are highly desirable because, when done right, they result in free advertising; drawing in relevant traffic without the overhead of "pay for click" or "pay per view" advertising.
Improving your Search Engine Ranking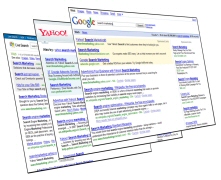 Applying Search Engine Optimization to get a better Search Engine Ranking for your South Jersey business takes skill and patience. Major Search Engines are committed to providing their users (your prospects) the best quality search results possible. Tightly guarded algorithms sort through billions of web pages, finding the ones that are most relevant to search phrases. These same algorithms also identify questionable or "black hat" SEO techniques, and can effectively ban you from appearing in Search Engines at all. The bottom line is that you need to construct your site with strong but ethical Search Engine Optimization.
Sewell's goal-oriented Search Engine Optimization takes into account your objectives and manages expectations to produce improved search rankings. Our SEO services include:
Search Ranking Analysis
Keyphrase Research
Competitive Analysis
Professional SEO Copy Writing
Link Building
Don't just optimize. Improve your Business.
Successful Search Engine Optimization is not just about traffic, it's about matching quality traffic with targeted keyphrases that are relevant for your business. We never lose sight of the fact that Search Engine Optimization alone does not guarantee success. You need to keep business objectives at the forefront, and balance these with realistic Internet Marketing strategies.
Sewell serves the South Jersey area including Camden County, Atlantic County, Salem County and Cumberland County, from the Turnersville, Glassboro, Mullica Hill area in Gloucester County, NJ.
Contact Us now to find out how Sewell's goal-oriented Search Engine Optimization can benefit your South Jersey business.