Search Engine Marketing 101
So you want to be found on the Internet. You've invested some time and money into creating a web site to gather new customers and grow your sales. But results are less than you wanted. Traffic to the site is light. Few people call or purchase anything. What's wrong? You visit a search engine and search for your product or service. Your site is nowhere to be found. Why?
How do Search Engines work?
Search Engines help people find information they are looking for. In order to do this, they tirelessly scour web sites, following links from one place to another, and store what they find for easy retrieval. There are two main types of search results: Organic (or Natural) results and Paid (or Sponsored) advertisement.
Organic (natural) Listings
Each Search Engine has it's own (carefully guarded) rules for how it displays results. People type in what they are looking for, and the Search Engine applies it's rules to display what it thinks are the most relevant results. These listings are referred to as "Organic" or "Natural" listings. The advantage of being listed in this area is that there are no ongoing fees associated with being listed here. The downsides are that competition in this space is fierce, and there is no way to "pay off" the Search Engine to obtain a top listing. In addition, building your Natural ranking on a search engine takes time, often months.
In the example below, someone has searched for "plasma television". The first page of results contains ten listings, plus some paid advertisement. Checking the "Competition" we can see that Google has categorized over five million web pages in it's database. The higher the number of pages indexed by a Search Engine, the more difficult it is to be listed in the Organic Listings.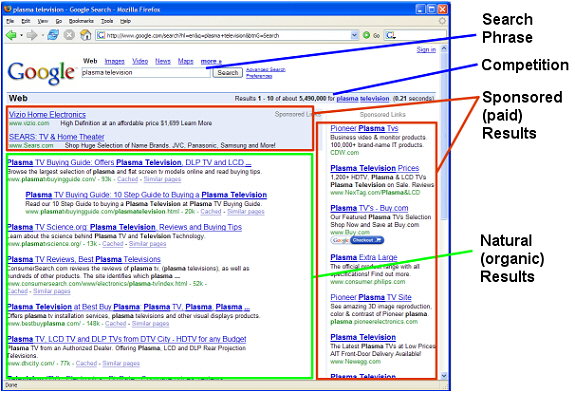 Paid Advertising (Pay Per Click)
Where Search Engine Organic listings attempt to present the browser with the most relevant results for their search (regardless of how much a merchant is willing to spend), Paid Advertising is the Merchant's tool for guaranteeing top placement. For a given keyword or keyphrase, merchants bid against one another to obtain top placement.
The obvious advantage of Paid Advertising is that anyone with a large advertising budget can gain top placement. The Merchant maximizes his visibility. In this model, the merchant only pays for the advertisement IF and WHEN a person clicks on their advertisement – thus the term "Pay-for-Click". You only pay for actual clicks or visits to your web site. Also, you can start immediately – there's no waiting as there is when you build your natural ranking. You can turn this on and off whenever you like. The disadvantage is that you don't know how much you'll have to bid on a keyphrase until you try. And bidding wars can make the cost of acquiring that click prohibitive. If you stop bidding, you stop advertising.
In our Plasma Television example, Vizio.com and Sears.com have outbid all other merchants to obtain a top Sponsored Listing, regardless of whether or not their sites are deemed most relevant to the browser. If any merchant wants to gain top placement, all they have to do is out-bid Sears.
Where do you start?
First things first. Set goals. If you don't set goals, you have nothing to measure your success against.
When people visit your site, they need to know they have come to the right place – that your site was exactly what they were searching for. If they visit, find the page not relevant to their search, and leave, you've wasted your time and money.
Research the keyphrases that you believe are most relevant to your business, and have the least competition. Create pages on your site that are tailored to the keyphrases you want to target. When people land on these pages, the will be more likely to stay.
Market your site
If you're eager to get going, and have an advertising budget, Sewell recommends a blended approach. Start off with Pay-for-click advertising to gain an immediate return on your advertising dollar. Choose your keyphrases wisely and craft your ads properly to attract only qualified traffic. Don't bid on phrases or ads if your target audience gets to your site only to find you're not what they are looking for. When your potential customers click on an ad, send them to a page that gives them confidence they have reached the right place.
After getting your Pay-for-Click campaign up and running (or if your budget does not include Pay-for-Click advertising), pay attention to your Natural ranking. Craft your pages so that each targets a unique keyphrase that you are trying to market. Then start in on making site improvements that will increase your natural ranking.
Monitor your progress
The only way you'll know if your efforts are working are to monitor your success. You'll need to know which keyphrases are generating the most effective traffic and which are costing you too much. You'll also need to monitor your status against your competition and your own goals.
Get Help
Search Engine Marketing can be a daunting task. If you're like most merchants, you want to focus on the business of running your business. Search Engine Marketing is a time consuming task that requires attention to detail, especially in the start-up phase.
Sewell Computer has over ten years maintaining and promoting our client's web sites. Sewell can help get your Search Engine Marketing Campaign up and running through extensive keyphrase research, campaign management, search engine optimization, and monitoring your return on investment.